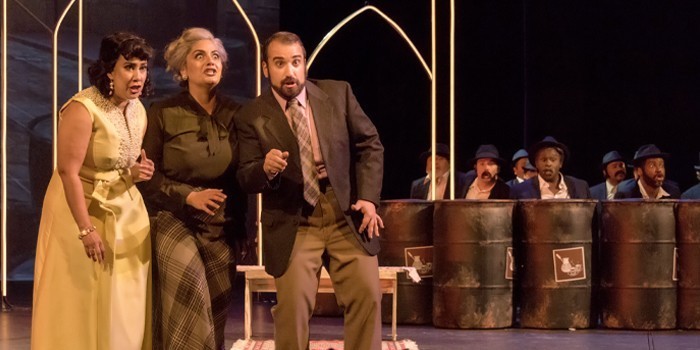 Giovanni Bottesini's Comic Opera, Alì Babà (1871), Reconstructed and Conducted by Anthony Barrese at Opera Southwest
I have not yet embarked on the inevitable voyage through Conrad L. Osborne's 827-page Opera and Opera, a report on the dire state of an art form many of us love as dearly as life itself, but Ralph Locke's thoughtful discussion in these pages and Joseph Horowitz's review in the Wall Street Journal have reinforced my awareness that performances like those cited by Mr. Horowitz, the Met performances of Verdi's Otello on February 12, 1938 or Siegfried on January 30, 1937 are rarely even approximated today. However it does still happen, as it did the evening of April 28, 2018, when Pretty Yende joined Michael Fabiano in a thrilling Lucia di Lammermoor, also at the Met. One is even less likely to hear a performance of Siegfried or Otello of that caliber today.
Yet, the world of opera as we have it has its own virtues. In the 1930s the shrinking of the operatic canon had already taken hold. We now have access to a great body of work, which lapsed from the repertory either soon after their initial popularity lapsed or in the late 1920s, when many long-popular works faded from the repertory, especially expensive productions like French grand opera. I remember great performances of one of them, Rossini's Guillaume Tell from Will Crutchfield's Bel Canto at Caramoor and the Met from recent years. Crutchfield's new venture, Teatro Nuovo, has brought us treasures like Mayr's Medea and Bellini's La Straniera. All of these were performed from new scholarly editions, the latter two with the advantage of historically informed performance, both on the stage and in the pit. Janáček's masterpieces now haunt at least the fringes of the repertory at the Met, and when they are performed, the productions do them justice. The demise of the New York City Opera opened the way for a variety of small companies which do excellent, imaginative work on slender budgets. A newcomer in the Berkshires, The Berkshire Opera Festival, has been presenting now for four seasons meticulously prepared performances of mainstream works with brilliant young singers, which in fact set an example for the field. And just this past summer, a brave group of singers and musicians mounted a production of Tristan und Isolde in Brattleboro, Vermont, which was entirely equal to its philosophical and musical depths.
Anthony Barrese, Artistic Director and Principal Conductor of Opera Southwest in Albuquerque, New Mexico, brings something new and valuable to the operatic community in his revivals of forgotten operas by forgotten composers. In 2014 he made an international splash with his revival of Franco Faccio's Amleto, the success of which inspired other productions in Europe. Now, in 2019, he has followed that achievement up with Giovanni Bottesini's Alì Babà, which enjoyed some popularity in the years following its 1871 premiere at the Lyceum Theatre in London, where it was sung in English. It was also performed in Spain (in Spanish), but never in Italy and never in Italian. A full score was never published, but a vocal score exists, as well as Bottesini's manuscript, preserved in the Ricordi Archive. Maestro Barrese used a high resolution scan provided by the Archive and a copy of the vocal score to reconstruct a full orchestral score for performance.
Giovanni Bottesini (1821-1889) is best remembered today as a the foremost double-bass virtuoso of his time. He was called "the Paganini of the double bass." I have yet to see an announcement of any solo recital by a double-bass player, but recordings of Bottesini's music for his chosen instrument are fairly plentiful. Less in evidence are the 12+ operas he wrote.1 He was also highly respected as a conductor, chosen to conduct the premiere of Aida in Cairo in late 1871, although he was not Verdi's choice for the task.2 Given his primary career as a virtuoso soloist, much of his life was spent on the road, including America, and this governed the course of activities as a conductor and composer. When he conducted opera, he was wont to appear between the acts with his three-stringed double bass and to play fantasies on tunes in the opera.
In writing a libretto of Alì Babà, for Bottesini, Emilio Taddei, adapted the libretto Eugène Scribe and Mélesville had written for Cherubini in 1833, his last opera. Described as a tragédie lyrique, it was a singular failure, and an attempt to revive it at La Scala in 1963 also met with disfavor. With few changes beyond a translation into Italian and the excision of an hour from its three and a half hour length, it became an opera comica in Bottesini's hands. As performed in English translation at the Lyceum, it was a success, especially the music. The libretto was less well received, by the critics, at least.
Bottesini's music is conservative for 1871. Bel Canto, with its sprightly tunes and sprung rhythms, haunts much of the score, but Verdian lyricism appears as well, especially in the more serious parts. We hear some Bel Canto ornament, but it is subdued and simplified. The singers at the Lyceum, if there were Italians among them, would probably have added further ornamentation of their own. Bottesini's virtuoso writing for double bass is richer in ornament than much of the vocal writing in Alì Babà, suggesting that the composer, when writing out the Ricordi manuscript and the vocal score, was sparing in detail, expecting the singers to insert their own ornaments. Nonetheless, this is the year of Aida, and the old art was fading away by then. As one might expect, the orchestration is rich, with particular care for the lower registers, above all the cellos and double basses. In the context of its London premiere, one can't help recalling Gilbert and Sullivan during the more Bel Canto-ish numbers.3
Overall Bottesini's melodic invention is vivid, but somewhat subdued—it seemed to me—out of restraint, good taste, and attention to the drama, rather than any weakness in that area. None of the numbers failed to hold my attention or entertain.
Curiously there is hardly a trace of the Oriental (or exotic, if you will) anywhere in the score. A barcarolle-like aria sung by the frustrated and miserable Nadir (the romantic lead) may hint vaguely in that direction, but possibly not. The presentation of the forty thieves in their secret cave, as they begin to argue amongst themselves and push for power, is entirely typical of the southern Italian brigand, as typified in northern European literature, drama, and opera since Byron or earlier. In this production the men and most of the women wore western costumes. The only consistent signifier of a Middle Eastern setting lay in the projected backdrops. A few changes of personal and place names, and the opera could well have been set in Italy. What could be more Italian than the old Commedia dell'Arte plot of the wealthy father thwarting his beautiful daughter's love by trying to marry her off to a rich business associate?
The quality of the writing and the effectiveness of the humor are enough to have made Maestro Barrese's hard work and the performance more than worthwhile, but what sets Alì Babà in an exceptional place and makes it a likely candidate for a return to the repertory was the humanity of Taddei and Bottesini in realizing the characters and their relationships. Alì Babà's greed, as the story developed, made him not just a materialistic domestic tyrant, but a vulnerable human being. He loves his gold and jewels well enough, but his true passion is his Moka, coffee, which he has smuggled into the country, and this puts him at the mercy of Aboul Hassan the chief of customs, who can blackmail Alì Babà into a marriage with his daughter, Delia. His invasion of the thieves' cave to steal the rest of their treasure (which, he finds, includes his coffee) puts him into their hands and under threat of death. Nadir, her lover, is no idler, rather a worthy but poor young man, who is naturally ambitious, inspired by his love to become rich and satisfy Alì Babà's conditions. His discovery of the thieve's cave is fortuitous, but it requires cleverness and bravery to find out the password, "Open sesame," to enter the cave, and to carry away its treasures.
The prelude to the happy conclusion, in which love triumphs, is a situation in which both father and daughter each have their own predicaments and they do not meet for some time. Eventually Nadir and Alì Babà figure out a smart solution, and the greedy Divus rises above his self-indulgence and laziness. Barrese's overall direction, and the singers' lively and focused acting under stage director, Foad Faridzadeh, brought this all home to perfection.
All the principals were exemplary. Ashraf Sewailam, as Alì Babà, using his expressive face to convey the comic qualities of the rich man's cupidity, passion, and the vulnerability I mentioned, was just the man for the role. His bass voice was splendid, and he could use it with wonderful agility and expressive line. His performance was a delight. Christopher Bozeka, bringing a gleaming, fully balanced tenor voice to his role as Nadir, sang with the classic qualities one wants in Bel Canto or one of the lighter Verdi roles, e.g. the Duke in Rigoletto or Alfredo in La Traviata. He was in comfortable command of his amorous, pining, and action scenes alike. Bass Kevin Thompson projected narcissism with its attendant pomposity, cynicism, and venality in his Aboul Hassan, singing with elegance and solid support all the while. Darren Stokes, bass-baritone, as Orsocane, the chief of the brigands, likewise sang solidly and stylishly with a voice that glowed as well as plumbed the depths.
Monica Yunus sang an affecting Delia, with a rich soprano, tinged with both silver and gold, developed in the style we know from Tebaldi. She executed her ornaments impeccably. Her character evolved from lovelorn to determined and resourceful, and she held on to these qualities throughout. I have not yet mentioned the character of Morgiana, Alì Babà's adept, conniving servant, as helpful in business as in family matters. The part was sung by mezzo-soprano Lauren Semerdijan, with style and a sumptuous voice, and avoiding the clichés often relied on in such roles.
The chorus sang and acted with gusto. They clearly enjoyed their part, an extensive one, which proved valuable in bringing the audience into the good-humored spirit of the show. Maestro Barrese seemed to have every tempo just right for the singers and the score and elicited spirited playing from the orchestra. Their full string sound did justice to the individual character of Bottesini's orchestration—or Maestro Barrese's convincing reconstruction of it, and the expressive wind solos were executed with sensitive musicality. Economy clearly played a major role in Richard Hogle's set design, but the combination of attractive projections, a gold framework of pointed arches, and tubular lights did the trick and then some.
Opera Southwest's outstanding performance served Bottesini and his forgotten Alì Babà most admirably and made a strong case for its revival to freshen up the repertory with its humanity and fun.
Source: New York Arts