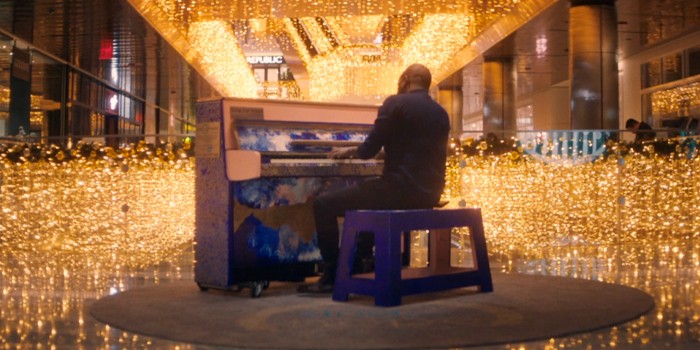 Sing for Hope in Partnership with Hudson Yards
This holiday season there's something especially poignant about live performance.
With that in mind, Hudson Yards, in partnership with SAP, enlisted non-profit arts organization Sing for Hope and its pianos to bring joy throughout the Shops & Restaurants. As you walk all the levels, you may well hear Broadway and Juilliard-trained musicians performing songs of the season and more; visitors, too, can sit down and play a tune. Read the full article in The New Yorker.
Camille Zamora and Monica Yunus, best friends and fellow sopranos, met as students at Juilliard. Tragically, the firehouse that shared a city block with the school lost 12 firefighters at the Twin Towers. Monica and Camille immediately mobilized fellow musicians to perform live at the firehouse for the survivors and their families. In the months that followed, they delivered their good will around the city at other firehouses, hospitals, and schools. "It was as though our music cleared an emotional path, allowing the release of tears that may have been blocked until then," says Camille. "We experienced firsthand how art can be a change agent, and how a simple song can generate hope."
"We didn't think we'd be able to have any 2020 Sing for Hope Pianos in New York City," says Lester Vrtiak, Director of Sing for Hope Pianos. "To see these instruments come to life has been a miracle, and we are delighted to see—and hear!—all the joy they have brought. We welcome everyone to come and play our eight beautiful pianos, surrounded by the beautiful holiday lights of Hudson Yards!"
You can support Sing for Hope's spirit-raising efforts and keep artists working while the world's stages remain dark with a tax-deductible donation. Or order a personal Zoom concert or workshop from the Sing for Hope Holiday Catalog.
Source: Hudson Yards